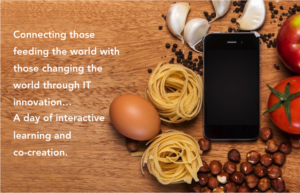 Yesterday, Green Eatz attended Food IT: Solution Harvest, organized by The Mixing Bowl. There were attendees from all over the world, from New Zealand, Australia, Finland and Italy, but I claim the prize for the shortest distance traveled – just 2 miles from my home to the event location at the Computer History Museum, Mountain View!
The Mixing Bowl connects innovators in food, agriculture and information technology and Food IT: Solution Harvest was a day for interactive learning and co-creation.
---
Food IT: Food and Ag Startup Pitches
The day kicked off with a fascinating group of food and agriculture startups pitching their innovations to the audience and a panel of venture capitalists. As Rob Trice quoted in his opening remarks, 'Innovation from the bottom up tends to be chaotic but smart'.
FreshSurety tackles the problem of shelf-life and how the supply chain can be improved to detect food freshness. Their unique sensors detect food metabolites that indicate the level of freshness and enables strawberry suppliers to increase their yield and profits by 20%.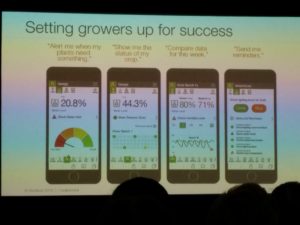 Avolved also use sensors but at the field level, detecting the state of plants as they grow and alerting the growers when the plant needs something. Their tagline 'Know what your plants know' is a catchy one, but does this really replace the expertise of a farmer or nursery grower?
SnapDNA are currently testing their beta product – a hand-held device that identifies DNA and allows farmers to test for pathogens at source. Their competitors cannot match them for speed or convenience as they can provide results in just 10 minutes! SnapDNA won the Golden Blender with this idea that combines smart science and practicality.
Monj is at the other end of the food chain, with its app for corporate employees, that inspires a move to healthier eating habits. The Monj app works as a social game giving rewards for completing challenges such as cooking a healthy meal. It benefits the employers as improved employee health results in lower health costs.
Maiaki and Athena use big data to improve supply chain logistics whilst Edenworks and Byte bring innovations in growing and feeding the urban workforce.
---
Food IT: Setting the Table
Thought leaders discussed the key trends and challenges in food and agriculture facing the world today:
Feeding the developing world
The developed world's epidemic of obesity and diabetes
Tackling food waste
Growing crops to feed animals rather than people
Investing more in the sustainability of the food system
Fernando Martins of Bain and Co said 'processed food gives instant gratification at the expense of your health'. It is one of the main factors in the obesity epidemic sweeping the developed nations. In contrast, Jennifer Mason of Mars pointed out that 775 million people are suffering from hunger, whilst the scientific community ignores traditional staple crops.
On the money side, Justin Siegel warned that venture capitalists are not suited to investing in the food system, as they want a quick exit with high returns. Naomi Starkman of Civil Eats stated that '$4.6 billion was invested in AgTech last year but that what we really need is more funding in scaling up sustainability'.
---
Food IT: Technology Levers
The Technology Levers Panel brought their expertise in technology to the table, as they discussed the key game changers that the agriculture sector need to embrace. The biggest themes were that of data sharing in the 'cloud', the Internet of Things and robot automation.
Apparently, self-driving tractors are commonplace nowadays although they usually have a human monitoring their actions. Driving in straight lines and weeding rows of produce are easy for robots, but just ask them to open a door! Dan Steere from Abundant Robotics told us that 'come the 'robocalpyse' all you need to do is shut your door and they will not be able to get in'.
Farmers still have the problem of poor internet connectivity out in the field and only 40% use the internet at all for their business. Reps from British Telecom and Orange talked of future innovations such as 5G and LORA that could help to change that.
---
Food IT: Challenge the Audience!
The afternoon took on a more challenging aspect for the audience as we tackled some of the most pressing needs in the food and agriculture sectors. Five groups presented their challenges in areas such as food literacy, cattle ranching and family farms. The audience then picked a challenge and worked together to provide solutions. The group session was certainly a lot of fun and gave a great opportunity for networking with people who were interested in similar issues.
---
Food IT: Innovation Marketplace
And finally, a quick shout-out to the Innovation Marketplace with its fine display of new products and ideas in the food and ag sector. Those who stood out for me:
Love with Food provide low-cost healthy snacks as well as helping combat childhood hunger
Iunu's full spectrum lighting that reduces energy costs and increases growing potential
eHarvestHub that uses simple technology to connect growers, retailers and carriers
---
Many thanks to The Mixing Bowl for the media pass and a superbly organized, entertaining and informative event.
---