Shop-bought granola has two problems: too sweet and too expensive! It is actually very easy to make granola. You can tailor it to your tastes – and save money too.
Ingredients
2 cups rolled oats
3 tablespoons slivered almonds
3 tablespoons pumpkin seeds
1 teaspoon ground cinnamon
1/4 teaspoon sea salt
1/3 cup unsweetened applesauce
2 tablespoons maple syrup
2 tablespoons extra virgin olive oil
1 teaspoon vanilla extract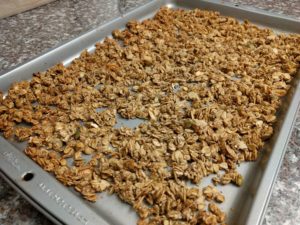 Method
Mix the oats, almonds, pumpkin seeds, cinnamon and salt in a large bowl
Whisk together the applesauce, maple syrup, olive oil and vanilla in a small bowl
Add the liquid mix to the oats mixture and combine well so that all flakes are fully coated
Preheat the oven to 300F or 150C
Spread the mix evenly on a large baking sheet
Bake for 20 minutes
Take out of the oven and flip the granola using a spatula
Return to the oven for another 15 minutes until golden brown
Leave to cool and crisp
Store in a container for up to 2 weeks
Serve with raisins, cherries or blueberries and soy or almond milk
Makes 6-8 bowls
---
Oats are high in fiber, gluten-free and full of vitamins and minerals. They will give you sustained energy and are helpful in lowering cholesterol and controlling blood sugar.
We like it so much that we always make double this amount! Just double all the quantities and use two baking trays. If you don't have a fan oven, you may need to bake the tray on a lower shelf for an extra few minutes.
---