I spent the last two days at the excellent Woman in Green Forum in Santa Monica, that explored the environmental issues facing the world today from a uniquely female perspective. The speakers ranged from directors of multinationals such as Microsoft, through CEOs of start-ups, public health officials, entrepreneurs, to scientists and environmental activists. 
The over-riding ethos of the conference was summed up by Karen Owyeung of Lunera Lighting who stated that we all need to
Create a Vision, Show Passion and Take Action
. Many of the presenters gave us inspiring and empowering stories that showed how even the smallest green initiatives can have a positive impact on the health of our planet. And it was a great opportunity to network with women involved in so many different aspects of sustainability.
As there was such a diverse program, this blog concentrates on one of the major themes of the forum… pollution in all its forms. A
recent survey
shows that air and water pollution are now top of the environmental agenda for many people, as the controversy over climate change continues.
---
Powering LA – Impacting the Navajo
One of the keynote speeches came from Wahleah Johns of the Black Mesa Water Coalition. She spoke of the high desert region of Arizona which is home to her tribe and around 300,000 Navajo and Hopi people. Most of the inhabitants of this Black Mesa region follow a subsistence way of life where 'green is not a new concept'.
She asked us all how her home was connected in some way to Los Angeles – the answer, the coal from Black Mesa is used to generate power for 5 million people in the cities of Los Angeles and Las Vegas. And how does this coal get to the power station in the Mojave desert? It is transported through an underground pipeline that uses 3.3 million gallons of water per year to move a 'slurry' or mix of coal and water.
This flagrant usage of the Black Mesa's water has led to drought conditions which affects the agriculture-based economy. Ironically, 50% of the Navajo don't have electricity and 40% don't have running water whilst the mining company, Peabody Corporation, does not pay any compensation to the Navajo people. The Black Mesa Water Coalition is actively involved in raising awareness of this environmental catastrophe and is urging a transition to solar power.
Wahleah gave a passionate speech that moved the whole audience…certainly an eye-opener on how things we take for granted can have such a devastating impact on people and the environment.
---
The Right to Breathe
The major sponsor of the conference, The South Coast Air Quality Management District (AQMD), were represented by a number of speakers who clearly laid out the problems with air quality in the Los Angeles area. 
Supervisor Josie Gonzalez talked of being at a cross-roads of change, where we need to take ownership of tomorrow by being leaders of change today. She envisaged a three-pronged effort in combating climate change, through technological advances, public investment and global co-operation.  
One of the token men at the forum, Peter Greenwald, gave us the facts and figures behind the air pollution issue. Every year, 5,000 people die prematurely as a result of air pollution in LA county. Those most at risk live near freeways, railways or the enormous ports of Los Angeles and Long Beach, which are responsible for 40% of the imported goods coming into the US. The AQMD are currently working towards the federally mandated standard of 80ppB of particulates in the air from the current base of 112ppB. He believes that there is a significant market opportunity for converting to clean energy, and gave us many examples of how that is being implemented right now. For instance, Fed Ex is moving to clean energy trucks, natural gas power plants capture 90% of their emissions and ships in port are encouraged to use clean shore-power rather than running their dirty engines. In the future, he hopes to see solar panels on the enormous acreage of LA's warehouses and a return to the days of the Red Car electric transit system. 
From a scientific viewpoint, Elaine Change, gave an insight into how policy changes on public health have to be carefully managed to include social welfare considerations. Scientific research showed that the dry-cleaning agent perchloroethylene (PERC) was linked to increased cancer risk, whilst ambient air testing proved that levels were high in the vicinity of dry-cleaners. As most dry-cleaners were small, low-income family businesses, it was a considerable challenge to implement change without a severe economic and social impact. Legislation was passed to allow a slow transition to healthy dry-cleaning alternatives, backed up by grants to help mitigate the costs of machine replacement. In 8 years, the PERC machines, dropped from 2200 to 792 whilst the healthy non-PERC increased from 71 to 951. A heart-warming success story. 
And finally, we were treated to the World Premiere of the AQMD's film, The Right to Breathe. A moving documentary that tells the story of how air pollution impacts the lives of ordinary Angelinos… see the trailer above.  
---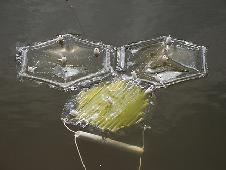 FOG in San Francisco
No, not that sort of fog! But Fats, Oils and Greases. Apparently, the grease from fast-food restaurants is the leading cause of sewage blockages in San Francisco. Mary Martis, an environmental engineer, worked on an innovative solution that traps this grease and converts it to biofuel. She is now working on the NASA-funded OMEGA project, which uses wastewater to grow algae that can be converted to biofuels.
Well, enough blogging for today! Hope to add more posts on the fascinating Woman in Green Forum. If you were there, what did you find interesting? And what did you learn from your two days immersed in the world of sustainability? 
And did you know that 20% of greenhouse gas emissions are produced from the livestock industry, that provides you with your meat and dairy? Find out how to reduce your Food's Carbon Footprint here!  
And read more on the challenges facing LA at Los Angeles… an environmental conundrum? 
 
---