On World Environment Day, Sunday 5th June, rallies were held across Australia to show support for the government's proposed carbon tax and for action on climate change. I went to the Sydney rally held in a Surry Hills park very near my home – thanks to the organisers! 
---
United in a Vision for a Brighter Better Future
Ramya Christian, a teenager from Western Sydney, spoke of growing up in a diverse community where sustainability is seen as an important issue. Her school in Parramatta has installed solar panels and has its own vegetable garden, and her family has followed a green lifestyle in the belief that we all need to show responsibility for the future of our planet. The negative story being played out in the media by the shock jocks and Tony Abbot does not speak for the people of Western Sydney. Loud applause for this!
She stated that Australia's current attitude 'threatens the safe global climate that our children will inherit' but is optimistic that we can be 'united in a vision for a brighter and better future'.
---
Say Yes to tackling Climate Change
The next speaker was a young boy, Jack Versace, who had starred in a Climate Institute ad a few years ago. He said that he realised that climate change was a serious issue ' when I was a little boy' to much laughter. He felt that his generation will be paying the price for the inaction of this one, and that we need to do something right now.
He said that we all need to stand up and fix it, and that the government must stand up to big business too. And 'let's say yes to tackling climate change before its too late'.
---
This Week We Fought Back
A lady in the crowd, Beth, had cancelled her birthday party to come to the rally – a rather special day for her as she was 92 years old! We all sang her 'Happy Birthday' and she came up on stage to say 'thank you all for coming as we need to do something about climate change'. Its certainly heartening to see so many of the older generations showing their support, even though global warming will not affect them personally. 
Simon Sheikh, the leader of the Say Yes Campaign, then finished off with a rousing (and very loud) speech. He said that thousands of us had joined the rallies across Australia following a week where we had fought back against the carbon tax opponents. 
Sunday – the TV ad campaign began

Monday – community showed support for ad

Wednesday – Cate answered her critics

Thursday – economists, religious, union and business leaders joined the cause

Friday/Saturday – grass roots campaign began

Sunday – rallies across Australia
Simon stated that we need to invest in clean energy and get industry to clean up their act. He believed in an ambitious target of 100% renewable energy and that we need to bring back our leading renewable energy scientists that are currently working in China.
---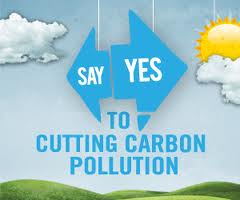 Climate Action Now
Simon called on everyone in the crowd to talk to 10-20 people this week about climate change and the need for action now. He said that we could reach a million people to raise awareness of the need for urgent action and 'we will win this campaign for a price on pollution'. 
Read the Australian Carbon Tax guide to make sure you know the facts when spreading the word on the need for climate action now.
Look at the vision of the world after global warming at Deep Future and find out why climate change is such a danger to our planet. And find out why the climate change deniers are backed by the media. 
Check out the ideas for a society with no carbon footprint at Zero Carbon Britain and see how it is possible using our current technology.
Comments Please!

What are you doing to reduce your carbon footprint? Do you think that the carbon tax is the best way forward? Have you convinced anyone to join the Say Yes campaign? 
---